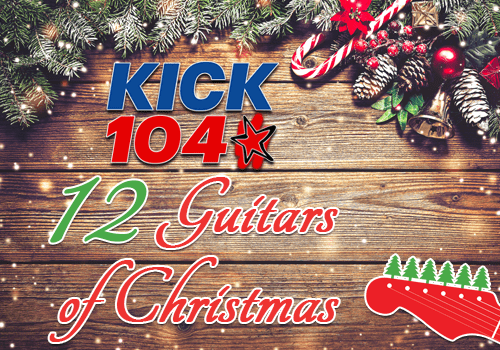 It's KICK 104's 6th Annual 12 Guitars of Christmas, presented by Haggerty's Musicworks.
Listen to the Bobby Bones Show weekdays from 7-8am to hear who signed the guitars this year that you have a chance to win! KICK 104 will announce 1 guitar every weekday between November 1st to 18th.
We'll start giving away the guitars on Black Friday (11/29/19). Here's how you can win one of the guitars: listen for KICK 104 to tell you to call (605-341-5425) to try to win the guitar we're giving away. If you're caller #12, you'll win the guitar!
Giveaway dates:
Friday, November 29: Michael Ray
Monday, December 2: Chris Janson
Tuesday, December 3: Big & Rich
Wednesday, December 4: Cody Johnson
Wednesday, December 4: Toby Keith
Thursday, December 5: Kelsea Ballerini
Friday, December 6: Aaron Watson
Monday, December 9: Brett Young
Tuesday, December 10: Midland
Wednesday, December 11: Chase Rice
Thursday, December 12: Various Artists Guitar
Thursday, December 12: Bret Michaels
Check out the 2019 12 Guitars of Christmas: