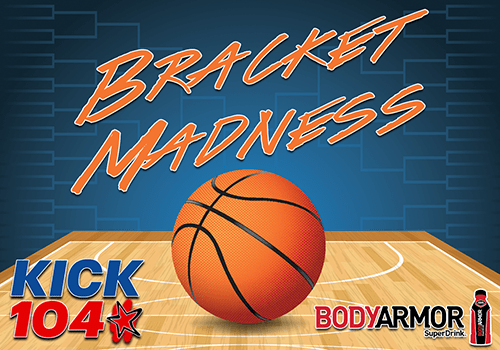 KICK 104 & Body Armor Sports Drink are teaming up for Bracket Madness!  Starting Sunday, March 17th, fill out your bracket for a chance to win a $500!
Rules for 2019 KICK 104 Bracket Contest
Employees of Haugo Broadcasting and any sponsor(s) are not eligible to participate including immediate family and/or anyone in their household.
Must be 18 years of age or older.
In the contest,  you pick the winners for each game for the entire tournament prior to the start of the Tournament.
Entries must be submitted prior to 10:15am MDT March 21, 2019.
Only one entry per person/email.  Multiple entries will be deleted.
Once submitted, entry is final.
Game limited to 1000 players.
Scoring as follows for each correct: First Round 1 point, Second 2 points, Field of Sixteen 4 points, Field of Eight 8 points, Final Four 12 points, Champion 16 points.
In case of tie, the first tie-breaker will be the individual who picked the Champion.  The second tie-breaker will go to whoever came closest to Total Points in Championship Game.  The third tie-breaker will be who had the highest pick percentage for the entire tournament.  If there is still no winner, a random drawing to select the winner of the contest will be held.
Winners must pick up their prizes at Haugo Broadcasting 3601 Canyon Lake Drive, Rapid City M-F 8-5.