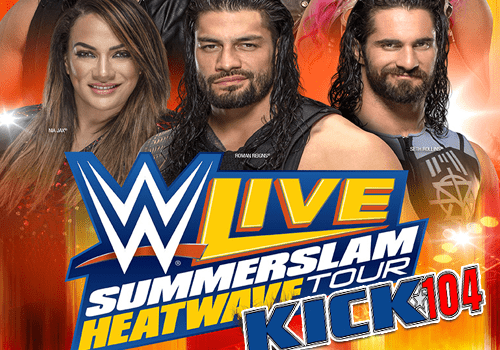 WWE LIVE will return to the Rushmore Plaza Civic Center on Friday, June 29th. This will be your chance to see your favorite WWE Superstars LIVE! SEE: Roman Reigns, Braun Strowman, Seth Rollins, Jinder Mahal, Sami Zayn, Kevin Owens, Bray Wyatt, Matt Hardy, Nia Jax, Sasha Banks, and many more.
Starting Monday, May 14, listen to KICK 104 for your chance to win tickets in the first 5 rows to see WWE LIVE! Guaranteed times to win:
Monday 5/14 (5th row tickets): 1-2pm
Tuesday 5/15 (4th row tickets): 5-6pm
Wednesday 5/16 (3rd row tickets): 3-4m
Thursday 5/17 (2nd row tickets): 11a-12p
Friday 5/18 (FRONT ROW tickets): 2-3pm
Tickets to WWE at the Rushmore Plaza Civic Center go on sale Friday, May 11th at 10:00am Purchase yours at the Civic Center Box Office, gotmine.com, 1-800-GOT-MINE, the Silverado Franklin in Deadwood or Ellsworth Air Force Base Outdoor Recreation.
*Lineup subject to change.