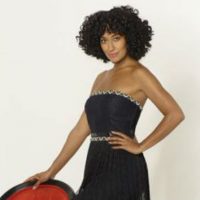 ABC/Bob D'Amico(LOS ANGELES) — At age 44, Tracee Ellis Ross says she works really hard to keep her body in tip-top shape. But the black-ish actress, who now embraces her "bigger" butt, admits that it took quite some time for her fully accept her curves.
"I love my butt in a way I didn't growing up," Ross tells Health magazine. "I really didn't like it growing up. It was so much bigger than everybody else's, and I wanted jeans to look the way they did on everybody else, and mine didn't.
The Emmy-winning actress, who stars as Rainbow Johnson on ABC's black-ish, explains she was "at odds with her body for many years."
"Then, in my 30s, I started to get comfortable with the largeness of my personality. The same thing with my butt," Ross says. "I tried getting really, really skinny, and I learned that no matter how thin I got, I was still gonna have a butt."
While Ross says she loves her full figure, it's not an easy task to keep it in shape.
"Gravity makes it drop and spread, so I try to lift and tighten," said Ross, who regularly works with celebrity trainer Tracey Anderson. "[My trainer and I] specifically target it to make sure my butt is looking lifted and full. And I switch it up with other workouts, sometimes squats and lunges and deadlifts."
To read the full interview with Tracee Ellis Ross, go to Health.com.
Copyright © 2017, ABC Radio. All rights reserved.