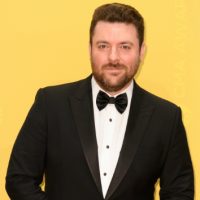 ABC/Image Group LAFor Chris Young, few things could be better than enjoying the ninth #1 of his career — except perhaps sharing that milestone with one of his great inspirations.
Chris recalls going to see Vince Gill as one of his very first concert experiences, and it's the Country Music Hall of Famer who lends his background vocals to "Sober Saturday Night."
"It's such a cool experience for me," Chris admits, "being a fan of Vince Gill, and asking him and him actually saying yes that he would like to be a part of my record, no matter what it was!" he laughs.
The I'm Comin' Over hitmaker also loves "Sober Saturday Night" because it's a throwback to country music's roots.
"It's different than a lot of the songs that I've put out," Chris says, "and that it's pretty much a straight-up sad country song. And there's such a great history of those, really, in the format that I just was like really hoping that this one would stack up. It's one of my favorite things that I've written in quite a while," he adds.
Vince's most recent trip to country's top ten came in 2000 with the song, "Feels Like Love."
Copyright © 2017, ABC Radio. All rights reserved.