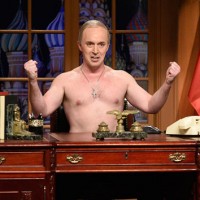 Will Heath/NBC(NEW YORK) — Alec Baldwin's absence on this weekend's Saturday Night Live didn't stop Beck Bennett's Vladimir Putin and Kate McKinnon's Kellyanne Conway from skewering all things Donald Trump — particularly the number of attendees at Friday's inauguration, and Putin's alleged involvement in Trump's win.
The cold open began with Bennett's Putin — shirtless, of course — noting, "Today many of you are scared, and marching in the streets. You are worried your country is in the hands of this unpredictable man.
"Relax, I've got this," he assures. "I promise that we will take of America. It's the most expensive thing we've ever bought!"
Bennett's Putin then says, "I'm glad to see so many people showed up to your inauguration," as a photo of a sea of people appears on the screen. "Oh, wait," he says, "That's the Women's March.
"So why are American women protesting? Bennett's Putin asks. "In Russia, women have no reason to protest." McKinnon then enters as a Russian woman. "I am so happy," she declares. "Each day, I wake up with big smile on my face…I sleep in bed, not in carcass of dog. My president is number-one hottie for all time."
Bennett's Putin then gives her a fish, to which she responds, "Ah, my pension!"
Later in the show, McKinnon's Kellyanne Conway return in a sketch in which she's being interviewed by CNN's Jake Tapper, also played by Bennett. When he asks her, incredulous, "What do you get out of this?" Conway breaks out into a Chicago-style song and dance routine about her desire to be a celebrity.
Copyright © 2016, ABC Radio. All rights reserved.