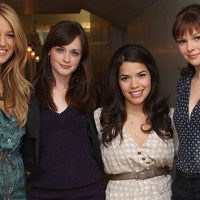 L-R: Blake Lively, Alexis Bledel, America Ferrera and Amber Tamblyn in August, 2008; Jason Kempin/WireImage(NEW YORK) — The cast of The Sisterhood of the Traveling Pants is still a tight fit.
Blake Lively, America Ferrera, Amber Tamblyn and Alexis Bledel reunited a few days ago, and shared their joy and laughter on social media.
Ferrera posted some pics on Instagram and wrote, "All grown up. #blakesfingerinmynose #ambersfingerinmymouth #alexisisatruelady #sisterlove #holdtighttotheonesyoulove."
And yes, there are fingers in the actress' nose and mouth in one of the photos.
Tamblyn shared the same pics and added, "Needed my girls today. The world is a crazy place. Hold onto the ones you love. And pick their nose."
Lively — who was with Taylor Swift and the singer's squad during July 4 weekend — uploaded a different picture of the foursome and captioned it simply with the hashtag, "#sisterhusbands."
The Sisterhood of the Traveling Pants, based on the book of the same name, was released in 2005. A sequel followed three years later.
Copyright © 2016, ABC Radio. All rights reserved.